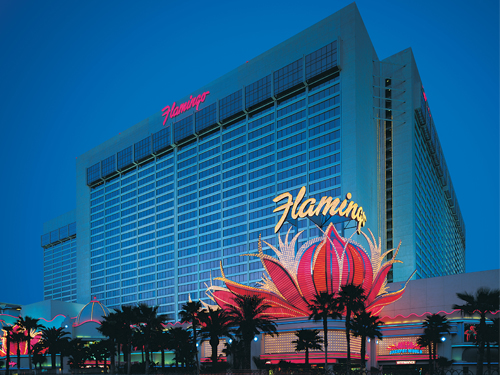 The Flamingo Las Vegas
The group rate is guaranteed through Monday, September 13, 2021. After that time, the group rate may be offered at the Flamingo's discretion based on availability. The resort fee includes in-room internet access for two devices and two fitness center passes per room per day.
For guests that prefer to phone in their reservations, you may call the Reservation Center at 888-373-9855, but be aware that a processing fee per reservation will be charged if you choose not to use our dedicated weblink. Callers should use group code SFBGB1.
---
We are excited to invite you to the 37th Great Basin Anthropological Conference this October at the world-famous Flamingo Hotel on the Las Vegas Strip. For 70 years, Flamingo Las Vegas has set the trend for Las Vegas style. This is where The Strip began, and though much has changed since then, the Flamingo's vibrancy and allure remain. If you want food by top celebrity chefs, Vegas has got it. If you like entertainers, top acts are playing. And don't forget the art and history museums. Use the Caesars Experience Vegas guide to choose your favorite and make reservations.
Come to the conference but do so much more.
Traveling to (and around) Las Vegas is easy. Each day at McCarran International Airport, nearly 1,000 inbound and outbound flights provide nonstop service from more than 130 U.S. and international cities. The airport is centrally located and easy to access. With many transport options, including shuttles, taxis, ride shares, and public transportation, traveling to and from the conference will be a breeze.